Lifestyle
The evolution of men's grooming category, Marketing & Advertising News, ET BrandEquity
Indians who dwell in metropolitan cities do all sorts of important tasks during their daily long commutes. Chop vegetables in trains. Create sales presentations in cars. Complete hurried skincare routines like applying a Tea Tree and aloe-infused hydration face mask in a cab stuck in traffic. Now, due to well-established gender stereotypes, one might immediately…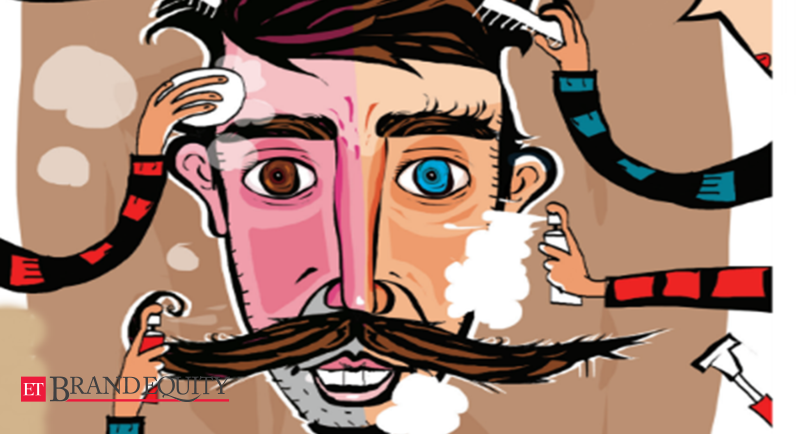 Indians who dwell in metropolitan cities do all sorts of important tasks during their daily long commutes. Chop vegetables in trains. Create sales presentations in cars. Complete hurried skincare routines like applying a Tea Tree and aloe-infused hydration face mask in a cab stuck in traffic. Now, due to well-established gender stereotypes, one might immediately picture a woman doing the last of these activities. But, in fact, it was a man behind that beauty mask. Hydrating sheet masks infused with all sorts of ingredients from honey to black mud and seaweed are all the rage among Indian women today, but men are not too far behind. One of the most frequently asked questions by men on beauty brand
's
is "Can men use sheet masks?" Just to be sure, the answer is yes, they can.
Indian men are finally shedding some of the misplaced shame associated with personal grooming, skincare and beauty. After all, it's only fair that men too get to be lovely. And given the fact that life today is increasingly lived and experienced online, often through rose-tinted filters, women and men are feeling the pressure to be selfie-ready 24/7.
According to market research firm Nielsen, 177 new male grooming brands or variants were launched between April 2018 and March 2019. The size of the branded male grooming segment has crossed the Rs 5,000 crore-mark in urban India. While shaving and face care products continue to account for over 50 per cent of the male grooming pie, new categories such as body care and hair care are also fuelling the growth.
The Korean brand Innisfree's marketing head in India, Mini Sood Banerjee, has been noticing some interesting trends in men's skincare routines. For instance, the company launched a sunscreen specially created for Indian men who care about complexion and sun damage, and the Green Tea range is one of the most popular among the brand's male customer base as they want gentler products. Previously the only choice men had was to use what companies were pitching specifically to women or use that one-in-all lotion for all skin types, body parts and seasons. Says Banerjee, "We have noticed that men usually check skincare routine videos online. But they aren't very open to in-store trials yet." In that case, we'd strongly recommend the brand try catching them in a taxi next time.
At Gurugram-based men's grooming brand The Man Company, founder and managing director Hitesh Dhingra tells us how the company is responding to the evolving needs of Indian men. "We conduct a customer survey every six months, where not only do we ask for feedback on our products but we also ask what new products they would want us to introduce in our product portfolio. That's the reason why we don't shy away from launching products which are as universal as beard and shaving products to something as functional as intimate care or tattoo care products."
The company is also changing its communication script. Recently, actor Ayushmann Khurrana came on board as the brand's endorser and he's invested in the startup. Khurrana's first film for the brand 'Gentleman kise kehte hai' attempts to break preconceived notions about male grooming and beauty regimes, and also mocks the ad industry that's played a big role is perpetuating damaging stereotypes.
Talking about the line of communication, Dhingra says, "To become a gentleman, how one looks or the choice of profession is irrelevant. What matters are the inherent qualities one possesses and the mindset of constant evolution." It's the kind of higher-order brand purpose that P&G's Gillette has pushing for a while. But Gillette caused quite a storm with 'Is this the best men can be' campaign, and since that close shave has returned to a much tamer #ManEnough campaign. The new approach celebrates local heroes and while at it shatters some behavior codes to create new ones like 'men cry too'.
Mass Connection to Complexion While men are opening up to hydrating, de-tanning, and masking, they are also more actively and openly seeking standard grooming and beauty services. UrbanClap, India's largest services marketplace, recently launched its home men's grooming services in nine cities. According to Pratik Mukherjee, AVP – marketing, beauty and wellness at UrbanClap, "We frequently got tweets and messages on Instagram from men enquiring if we had grooming services for them. The one thing we understood is that men in India are big 'standard maintainers'. They want either a haircut or set/shave their beard. That itself is a large customer base for us."
From a content perspective, too, the mass segment is becoming more curious, says Ranveer Allahabadia who runs a YouTube channel called BeerBiceps. Allahabadia started by creating fitness content but now is creating more content in the grooming space. He says, "Today, men are conscious about how they look. They want to have a sexy attitude. Also, they want to try things that they see on the Internet – from new hairstyles to balding treatments."
Allahabadia who also co-founded Monk Entertainment, a digital content company, works with brands like WOW Skin Science and Nykaa. He tells us that the steepest growth in views and engagement is coming through Hindi-language grooming videos. "An average Indian man wants to groom himself. His first research is an internet search. That's why tips and trick videos are a hit for this segment," he says.
Veet, a depilatory products brand, recently forayed into the male grooming segment in India with the launch of Veet Men Hair Removal Cream. Pankaj Duhan, chief marketing officer, RB Health South Asia, tells Brand Equity the brand took a couple of years to develop the product and the biggest insight in the development phase came from women, surprisingly. "According to our conversation with women, we understood that about 87% of them want men to take care of their appearance. 70% of women said they are put off by men with excessive body hair. In fact, men wanted more DIY solutions to get rid of their body hair."
Super Simple Word Press Hosting
Content That Matters
click here for discounted hosting!
Duhan also agrees that the definition of masculinity is evolving and with it the consumer's preferences; "Men today want to feel good about themselves. Therefore, it was important for us to design a product especially for men and deliver the solutions they are looking for." Solutions that are easy to use, with better results, and pain-free. Hot wax has made many shed tears.
However, Prathish Nair, founder and chief business architect, Transcend Brand Consulting, thinks that brands need to take a deeper look at the category. "The masculine image code is a response to the contemporary cultural, social and political factors. The representation of a man's image is in no way simple but rather as complex as the image of a woman." He thinks companies should actually design for men from the ground up. "These should be nothing like what you would currently find and are not just women's products with a "For Men" label slapped on the front of it or merely reproductions of international bestsellers."
As the famous L'Oréal brand line goes: 'Because you're worth it', man.
The Men's Makeup WarEarlier this year, War Paint, a male vegan beauty brand, released a video of its campaign on Twitter with a caption: "We couldn't find a make-up brand formulated specifically for men's skin; so we created one." In the short video, a heavily tattooed and muscular man was seen showering before applying products to his face and putting on a skull ring. Twitter users criticized the brand for its use of overtly masculine imagery by focusing more on the male's physique than the actual products. The video was eventually taken down.
@SushiRollPhan Hi Amy, male skin is actually very different to female skin. If you would like to read more you can… https://t.co/l2ycKo1xZx

— War Paint (@warpaintformen) 1557332961000
But makeup designed for men is no longer niche as major global brands like Chanel, Tom Ford and Marc Jobs launched men's collections, as reported in a Vogue piece titled 'Is 2019 The Year Men's Make-Up Goes Mainstream?'
Global K-pop sensation, BTS launched a makeup line in collaboration with VT Cosmetics.
Follow and connect with us on
,
,
Subscribe to the newsletter
We hate SPAM and promise to keep your email address safe